Manuscript Furniture Designs by an Early 18th Century Philadelphia Joiner
Image courtesy of Swann Auction Galleries
Written by Rick Stattler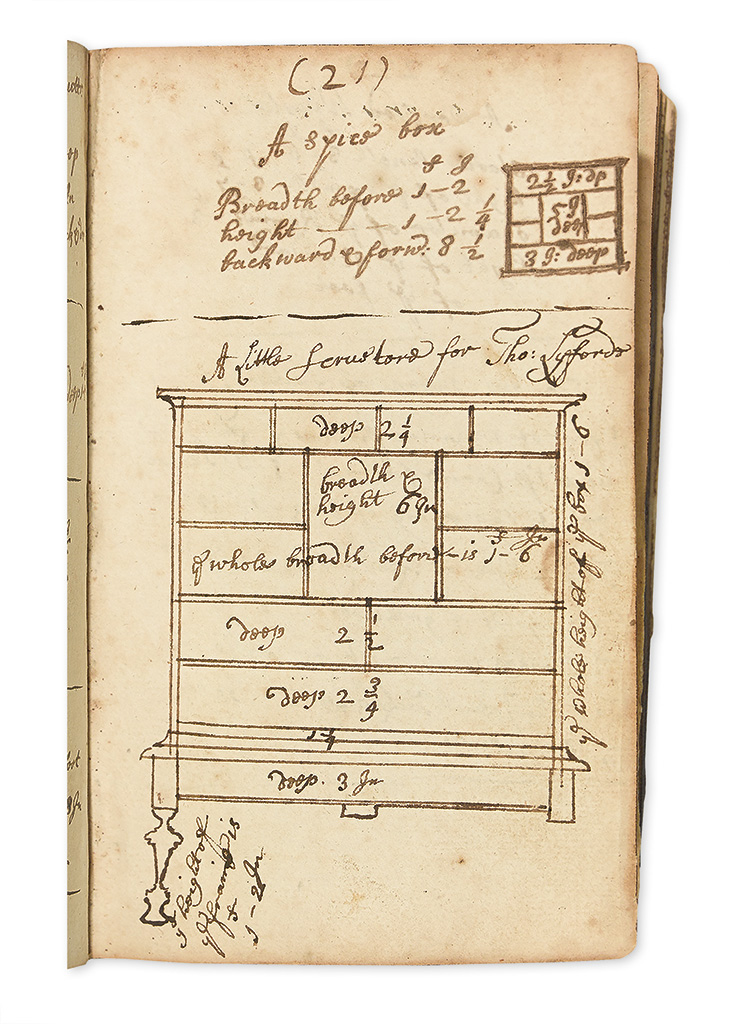 UPDATE October 28, 2015: As reported in the October 23, 2015 edition of Antiques & Auction News, this piece sold to a private collector for $75,000.00. Furthermore, Rick Stattler stated this was one of Swann's best Americana sales. It also serves as a reminder of the information that is available for genealogists and historians in auction c atalogs. Thank you for sharing---Passed Time
John Widdifield (1673-1720) was a very early American joiner who learned his trade in northern England and then settled in Philadelphia circa 1705. This volume shows him bringing William and Mary-era designs to the colonies, decades before the golden era of American craftsmanship. The first 26 pages are devoted to sets of measurements and prices for furniture forms ranging from clock cases to stools, cradles to coffins. He also includes sketches of three pieces: a spice box, a scrutoire (writing desk), and a "chest of wallnutt drawers upon a fraime." The materials noted are mostly walnut or pine, before the ready availability of mahogany. On page 22, he carefully prices out the material cost for making a dozen "leather chairs": frames, leather, girt web, tacks, and nails. On the verso of page 2 he records detailed instructions for keeping his tools at optimal sharpness.

The second section is titled "The Arte of Coloring, Staining & Varnishing According to My Owne Experience." It includes recipes for numerous types of varnishes; pages 65 and 72 include directions for the japanned lacquers which were becoming popular in that era. Page 71 gives directions for a finish "to put on maps on fraimes or boards." The third and final main section is "Recepts in Physicke," a series of home medical cures, followed by a family register in several hands which records four generations of Widdifield births from 1673 through 1783, most of the dates being apparently unknown to genealogists.
On page 121 of this book, Widdifield's great-grandson recalls that 'the author of this book came from England from Newcastle upon the river Tyne about the year 1700.' This accords with Quaker records which show that Widdifield left the English village of Thirsk (south of Newcastle) in 1703, and was received by the Philadelphia meeting in 1705 (see Rosina Widdifield, Widdifield Family, page 14). The table of contents for this volume was written in 1704, the only early date which is given. It seems clear that the volume was begun at some point before 1704, very likely in England. It also seems clear that the volume was intended to be an ongoing project, with ample space in all three sections, and that Widdifield continued to add entries after his arrival in Philadelphia. Seven of his customers are named; most of them have not been traced. David Brintnall, however, commissioned a bedstead on page 25; he was a prominent Philadelphia merchant during Widdifield's time. Widdifield is discussed as a pioneer of Philadelphia furniture-making in works such as Hornor's "Blue Book Philadelphia Furniture," but his career has been poorly documented until now. This volume is an important new source in early American furniture history. Rick Stattler (contact and bidding information below)
Provenance: grandson John Widdifield (1737-1791) and his son James (1765-1845), who both made signed inscriptions; James's daughter Elizabeth Widdifield Bouvier (1789-1870); her daughter Hannah Mary Bouvier Peterson (1811-1870); by descent in California; by gift to the consignor circa 2000. with--a later volume of religious musings, [190] pages, 1748-50, place and author unknown but bearing later inscriptions of the Maxted family (relationship unknown).
(FURNITURE-MAKING.) Widdifield, John. Manuscript furniture designs by an early 18th-century Philadelphia joiner. 68 manuscript pages by John Widdifield, plus a few later memoranda by other family members from 1762 to 1865, irregularly paginated through 126 with numerous blanks. 8vo, contemporary polished calf gilt, minor wear, lacking clasp; lacking front free endpaper, three leaves, and part of 93-94, fourth leaf detached, contents generally strong and legible; signed by Widdifield on front pastedown and elsewhere. England and Philadelphia, circa 1700-20
Rick Stattler (212) 254-4710 ext. 27
* Passed Time would like to say a hearty "Thank you" to Swann Auction Galleries and Rick Stattler for allowing us to share.
People in this conversation